Working families go beyond negotiation tables to secure democracy
Fred Yamashita
04 Nov, 2021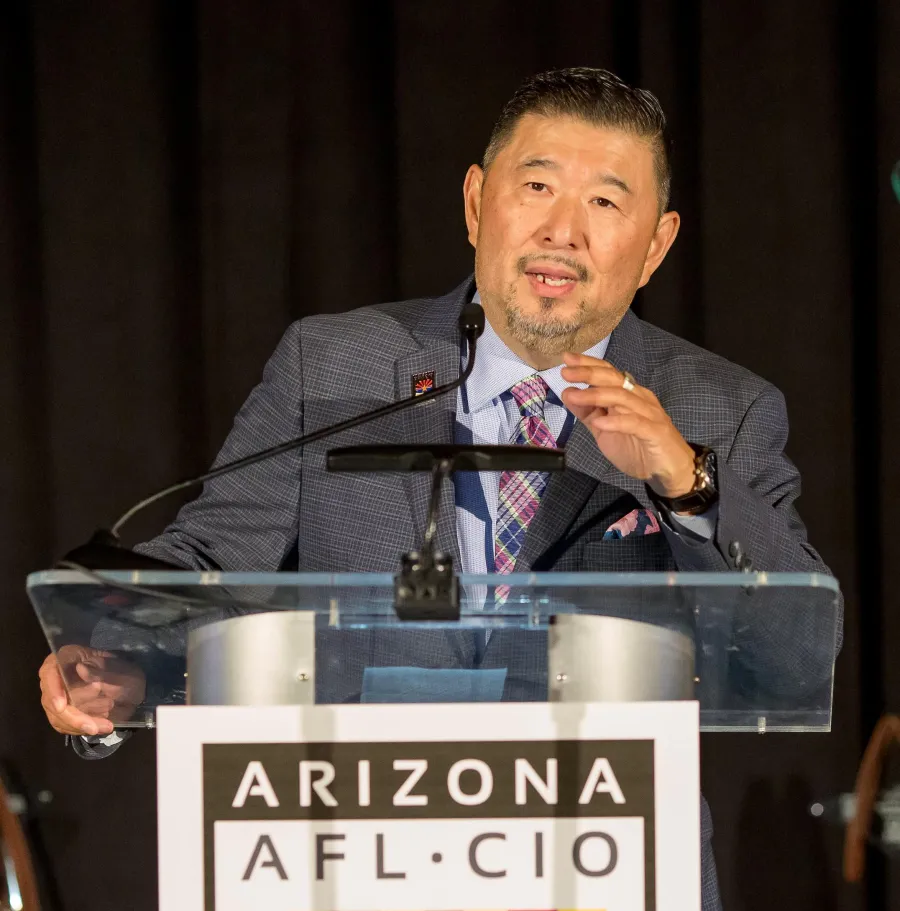 Last month we saw historic worker action take over national headlines. In what has come to be known as "striketober," workers across the country were withholding their labor in the face of inexcusable corporate greed. Going on a strike is a sacrifice and not easily decided, but for too long our economy has favored lining the pockets of CEOs.
A strike database from Cornell University shows more than 250 strikes have taken place since the start of this year. All of these work stoppages are a testament to how critical of a time we are in to build a more equitable country. A country where our democracy is secured in the workplace, at the ballot box and where immigrants aren't forced into the shadows but are given a clear path to citizenship.
Workers cannot wait any longer. Sen. Kyrsten Sinema needs to pass the following key pieces of legislation for Arizonans.
Pass the PRO Act
The Protecting the Right to Organize Act is the most transformative piece of labor law reform we've seen in generations. It would make it easier for people to join and form unions, which would be beneficial to whole communities. There is growing recognition that a union contract is the single best tool workers have to close racial and gender wage gaps and to ensure dignity and due process for workers, regardless of where we were born, who we are or what industry we work in.
The PRO Act passed the House of Representatives with bipartisan support. When surveyed, 66% of Arizonans support the PRO Act, several business owners have endorsed the PRO Act and most recently over 50 faith leaders organized by the Arizona Faith Network signed onto a letter urging our Senators' support. Arizona needs the PRO Act and the PRO Act needs Senator Sinema.
Pass the Freedom to Vote Act
Democracy and the labor movement are one and the same. Every member gets one vote, and each vote counts the same. However, between Jan. 1 and Sept. 27, 19 states have enacted 33 laws that will make it harder for Americans to vote, and 48 states have introduced restrictive legislation. We need a solution. These laws are motivated by racist and baseless voter fraud allegations that seek to prevent future elections from achieving the historic turnout seen in 2020.
Ensuring the Freedom to Vote Act becomes law is a crucial component of the broader effort to make our electoral system fair and accessible to all voters, especially people of color, who have been historically disenfranchised at the ballot box and who are being targeted today.
Pass immigration reform
The best way to strengthen our democracy and our economy is by empowering workers — and this should not have any exclusions. Immigrants and refugees have always helped build, serve and feed our nation. Today is no different. We need a just recovery for all, including our union family members who have temporary protected status or Deferred Action for Childhood Arrivals.
Moving forward
Right now, the Senate is using arcane rules, specifically the filibuster, to override the will of the people and block legislation like immigration reform, the Freedom to Vote Act and the PRO Act.
We cannot afford to let any of our legislative priorities fall victim to a procedural tool conceived in segregation and Jim Crow. Paths must be cleared. Laws must be signed. The choice is clear: Sideline the filibuster, not the hopes, aspirations and representation of America's working people.
Here in Arizona, we're building a bold and inclusive labor movement that goes beyond the negotiation table to affect change and support communities, however the rubber meets the road when elected officials like Sen. Sinema, who promised to deliver big change, becomes one of the largest impediments to progress.